A powerful type of Ground/Aerial Weapon that has enough power to destroy entire Cities from Orbit, there is presently only one in the world, piloted by Dunkel Almasy.&nbsp
Schematics
Edit
HATSW-02 Feral
Edit
Production information
Edit
Manufacturer:
Edit
Heavy Artillary
Tactical Superweapon
Aerial Armoured Weapon
Ground Armoured Weapon
Design Brainchild:
Edit
Technical Specification
Edit
Armament:
Edit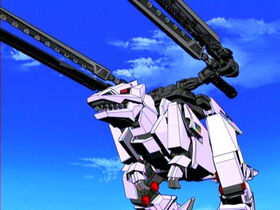 1x Mega Plasma Cannon, in mouth
2x Buster Claw (1x Plasma Cannon, 1x Plasma Drill and 1x Heavy Shield Generators), mounted on shoulders
1x Electron Fang, located in mouth
2x Strike Claw, located on feet
1x Strike Smash Tail, as Tail
2x Strike Energy Claw, on hands
Other Equipment:
Edit
Heavy Energy Shield Generators, coupled with the Buster Claw's Shields, it makes a powerful defence
High Booster Back (2x Buster Claw and 2x High Maneuver Thruster)
3x Plasma Reaction Generators, used for powersource as well as Mega Plasma Cannon's Powerplant
2x Vernier Thruster, located on ankles
4x Anchor, located on legs
Heavy Armour
Missile Jamming Devices
Complement:
Edit
1 Pilot
Affiliation:
Edit
Legionaire Terrestrial Forces
Dark GF Search Force
Project "Hyne Revival"
Known Owners:
Edit
Known Commanders:
Edit
Ad blocker interference detected!
Wikia is a free-to-use site that makes money from advertising. We have a modified experience for viewers using ad blockers

Wikia is not accessible if you've made further modifications. Remove the custom ad blocker rule(s) and the page will load as expected.